Sex Offender Registration Information
---
The NYS Sex Offender Registration Act (SORA) was established to assist local law enforcement agencies to protect communities by requiring sex offenders to register with the State and by providing information to the public about certain sex offenders living in their communities.
An individual is designed a sex offender based on a conviction for a NYS qualifying offense, or for a conviction outside of NYS of an equivalent qualifying offense in NYS. Upon release to the community following a conviction, a sex offender is classified by the sentencing court and categorized within one of three levels. Level 1 (low risk of repeating the offense): Level 2 (Moderate risk of repeating the offense: Level 3 (high risk of repeating the offense). The risk level assigned to the offender governs the amount and type of information which can be released to the public about the offender; Impacts the duration of how long the offender must register, and; sets forth a set of requirements that the offender must adhere to.
The Act essentially deals with registration, and information releases to the public. It does not legislate where or with whom an offender may live or restrict an offender's movement or general liberties.
Accessing Sex Offender Information and Alerts:
The Tioga County Sheriff's Office invites you to use our free service (Offender Watch) to locate registered sex offenders in your area, or to sign up to receive notification alerts when a registered offender moves into your neighborhood. The Offender Watch service is very simple. You specify addresses that you want to watch and the distance around those addresses. Offender Watch does the rest. Information is updated daily from multiple state sex offender registries. As soon as a convicted sex offender registers an address in your area, Offender Watch will alert you. It's that easy.
Click on this link to access Offender Watch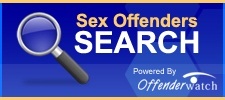 Click on this link to learn more about the Sex Offender Registration Act or the NYS Sex Offender Registry