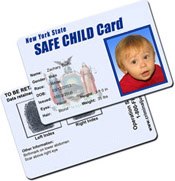 Operation Safe Child
Call (607) 687-8463
---
When a child is reported missing, time can be the greatest adversary. Possessing up-to-date photographs and detailed information about a child are important proactive measures that greatly assist law enforcement to quickly respond to a child's disappearance.
EZ Child ID equipment uses digital fingerprinting technology and high resolution photography capabilities to produce EZ Child IDs for parents. These paper IDs contain a child's name, biographical information (DOB, gender, height, weight, hair color, eye color, etc.), and fingerprint images. A new mobile app can be downloaded while registering your child at the event that will allow the same access to the same information as the paper ID. Parents can also choose to have the fingerprints, basic biographical information and photographs of children stored with the (DCJS) Department of Criminal Justice Services. The storage of information is entirely voluntary and requires the written consent of a parent or legal guardian.
In addition to being able to quickly provide important details to police agencies investigating child disappearances, the EZ Child paper ID serves as an important tool when used in conjunction with the AMBER Alert and DCJS Missing Child/College Student Alert programs. The paper ID and database allow essential missing child information to be electronically disseminated, statewide if necessary, within minutes and dramatically increases the possibility of bringing a missing child home unharmed.
Tioga County Sheriff personnel will be conducting Operation SAFE CHILD at a variety of events held throughout the County. If you are involved in the planning of an event and would like to have Operation SAFE CHILD as part of the activities, please contact Corrections Sergeant Chad Edwards at (607) 687-8463. Or, please check our events calendar on our home page for dates and locations of upcoming Operation SAFE CHILD events.