Contact the Tioga Co Sheriff's Criminal Investigations Dept. 607.687.1010 if you can identify this man & woman. They used a fraudulent $100 bill at the Mirabito in Richford.



Public Safety Lectures and Demonstrations
---
Upon request, Sheriff's personnel will provide public safety lectures to schools, civic organizations, and for special public events.
Lectures and demonstrations are subject to personnel availability and schedules. This service is free of charge.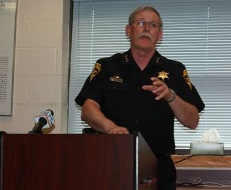 To request a lecture or demonstration, please contact Captain Tim Jewell (607) 687-1010.