Expect traffic delays in the Village of Owego 3/25/19 Main St. from Church St. to John St. will be CLOSED from 7 AM until 2 PM for the funeral of DOT worker Matt Howe.



Public Safety Lectures and Demonstrations
---
Upon request, Sheriff's personnel will provide public safety lectures to schools, civic organizations, and for special public events.
Lectures and demonstrations are subject to personnel availability and schedules. This service is free of charge.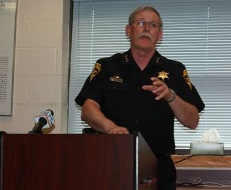 To request a lecture or demonstration, please contact Captain Rich Hallett (607) 687-1010.